A necessary (and perhaps overdue) rant about the church, relationships, and feminism.
Frankly, I'm tired of apologizing for being a woman that knows her own mind and sets high standards for herself and those she surrounds herself by.
And I refuse to continue to apologize.
"It takes years as a woman to unlearn what you have been taught to be sorry about."
– Amy Poehler
I'm sick of being told that I'll "never find anyone" because my standards are "too high" and I'm "too picky." I'm tired of being invalidated by other people that assume they know better simply because they're older or because they're willing to settle for less.
Not me. Not today. Not ever.
I will only have you if you are sweeter than my solitude.
I will not apologize for knowing my own mind and standards. I will not apologize for being self-aware and knowing what I need. I will not apologize for my confidence.
I will not apologize. 
Insecurity is not humility. To know Christ is to know who you are because you know Whose you are. And once you know who you are, it's not only hard, but impossible to settle for less.
"I praise You because I am fearfully and wonderfully made;
Your works are wonderful,
I know that full well."
Psalm 139:14
"If we base our significance, self-worth, or self-esteem on anything other than the strong nails of our identity in Christ, then we are at risk of collapsing when the strong winds of adversity come our way. The truth is: you are who God says you are."
– Sharon Jaynes
I'm not going to diminish myself to be with someone. I'm already under five feet.
"What matters is not the length of the wand but the magic in the stick."
– Anonymous
"'Are you a princess?' I said and she said, 'I'm so much more than a princess, but you don't have a name for it yet here on earth.'"
– Brian Andreas, The Story People
"'I love myself.'
The quietest.
Simplest.
Most
Powerful.
Revolution."
– Nayyirah  Waheed
Leslie Knope to Ben: "Here is my wall of inspirational women.
Ben: Is that a picture of you?
Leslie Knope: Yes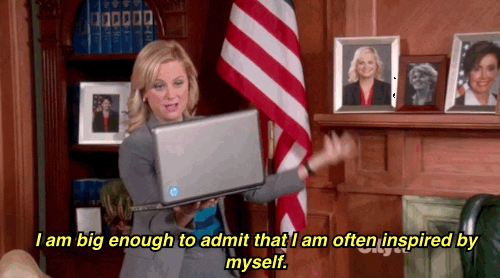 "The woman who doesn't need validation from anyone is the most feared individual on the planet."
– Mohadesa Najumi
The Jesus I know didn't just warm a pew on Sunday morning. The Jesus I know wasn't politically correct. The Jesus I know was passionate, bold, and even at times irritable.  (See John 2:13-22, 11:35.) Jesus refused to sacrifice truth on the altar of love. He loved people enough to tell them the truth of the gospel. The Jesus I know always treated women as equals and with the utmost respect. The church and His followers, unfortunately, have not always done so.
It is my prerogative to be picky. It is my prerogative to have high expectations. I think that the person you marry (if and when you marry) is the single most important decision you make – second only to accepting Jesus Christ as your personal Savior. You'd better believe I'm going to be picky. I'm not intending to divorce. 
Nora: That is just it; you have never understood me. I have been greatly wronged, Torvald — first by papa and then by you.
Helmer: What! By us two — by us two, who have loved you better than anything in the world?
Nora: [shaking her head]. You have never loved me. You have only thought it pleasant to be in love with me…
I have existed merely to perform tricks for you, Torvald. But you would have it so.
Homer: How unreasonable and ungrateful you are, Nora! Have you not been happy here?
Nora: No, I have never been happy. I thought I was, but it has never really been so.

---

Nora: Alas, Torvald, you are not the man to educate me into being a proper wife for you…I must stand quite alone, if I am to understand myself and everything about me…I believe that before all else, I am a reasonable human being, just as you are – or, at all events, that I must try and become one. I know quite well, Torvald, that most people would think you right, and that views of that kind are to be found in books; but I can no longer content myself with what most people say or what is found in books. I must think over things for myself and get to understand them.

---

Helmer: You are ill, Nora; you are delirious; I almost think you are out of your mind.
Nora: I have never felt my mind so clear and certain as tonight.

(Henrik Ibsen, A Doll's House – highly recommend)
Friends, I beg of you, stop undermining the people with high expectations. I know that my standards are not unrealistic, because I know Who my God is. He is faithful, and He passionately pursues us. He is patient. And gracious. God is love (1 John 4:8.) Thus, to know God is to know how to love.
I will not apologize for my desire to be a loving wife and mother. I do desire to nurture and raise children, and I believe that God has called and equipped me for the task. However, I'm not going to settle down with someone just for the sake of accomplishing those goals. Because frankly, it's not worth it to me. When I pick a man to marry, I'm picking the father of my children. As my mother always says, it's better to be single and happy than married and miserable.
 "And you,
You scare people.
Because you are whole
all by yourself."*
– Lauren Alex Hooper

*completed in Jesus without the aid of another person.
Revolutionary.
I'm also sick of the overwhelming volume of articles that plead "Don't overlook the nice guy!" I understand the intention behind the articles, and it's a nice sentiment. However, just because a guy is nice does not mean that he and I (or you and him!) are necessarily compatible. Good is the enemy of great. Just because something isn't terrible, doesn't mean you should put a ring on it.
God does not call us to complacency. Why would I settle in this area of my life? He calls us to radical obedience. He calls us to obey even when it's uncomfortable. Or even when we have to wait. (Psalm 27:14.)
"My heart was saying,
'Lord, take away this longing, or give me that for which I long.'
The Lord was answering,
'I must teach you to long for something better.'"
– Elisabeth Elliot
I believe that women were created equal to men, but not uniform to them. Unfortunately, the text in Genesis depicting the creation of Eve loses a lot in translation.
"The Lord God said, 'It is not good for the man to be alone. I will make a helper suitable for him." (Genesis 2:18)
As Chuck Swindoll puts it, in English the term "helper" sounds "menial, even pathetic." But in order for the full weight of what was being spoken here to be understood, you have to look back at the original Hebrew, and not limit yourself to your English understanding of the word. In English, the word helper is generally understood to mean "aide" i. e. someone who comes alongside and supports a person who is already equipped for the task. This makes a helper superfluous and unnecessary. In Hebrew however, the word has much deeper implications. The word helper, or ezer "has the idea of supplying something crucial that is lacking, and it most often refers to God" (Swindoll, Marriage is God's Invention.)
Wow. What an incredible statement.
To be clear, I do not think that women were created as subordinates or to serve men. Rather, they were created so that all of humankind, who were made in the image of God (see Genesis 1:26-27) would better reflect all of His attributes. The creation of woman brought into existence attributes that apart from her, simply didn't exist in an earthly capacity. How very cool and empowering.
"God created woman as the answer to the very first problem."
– Lisa Bevere
I believe that women should receive equal pay for equal work. I do not however, think that a woman should be looked down upon should she choose to be a homemaker. Honestly, my personal priority is going to be with my family first – ahead of my career. Not because I lack the abilities, talents, or the education to be immensely successful in a career, but because I would personally rather invest that time and those talents in my children. I don't think that to make this choice I'm holding myself back. I do not desire to be a mother because "it's what society has told me to do" or because I'm operating on "internalized oppression."

(Yes, I have actually received pushback and been asked these questions by self-proclaimed feminists. It is immensely discouraging and demeaning – not to mention the glaring irony of being second guessed by the very proponents of those who support "all women." I promise you, women who know their worth can still objectively make this choice for themselves. I know my own mind, and I am a force to be reckoned with. I am not a robot, dictated by the expectations of society. In fact, I would make the argument that at this point and in my experience, American society has gone a different direction and you are more looked down upon for making the choice to sacrifice a career for the sake of your family than you are for pursuing a career. To be clear, I do not think that either choice is necessarily objectively wrong. People do not belong in boxes. But I know the choice that I will make, if and when I meet the right person, because that's where my personal priorities are.
Again. Not that you can't do both. And not that someone who chooses differently is lesser than me in any way. This is just where I have landed personally. I think that to simply ignore that I desire to be a wife and mother is just as terrible as becoming those things out of obligation to a false idea that it's what society expects of you.)
To be a wife and mother is to make a very valuable choice. I don't think that women choosing to stay home and raise their children are necessarily holding the women back who choose otherwise. Isn't feminism about supporting all women, in whatever choices and endeavors they choose?
In my opinion, an investment in people – specifically children – is never a waste. They are the future. And by raising strong men and women, I am tangibly contributing to progress.
My parents made the financial sacrifices necessary so that my mom could stay home. My mom, together with my dad, was brave enough to raise us to know our worth.
I will not apologize for knowing my value. And I will raise my children to know theirs.
"She's the type of woman you go to war beside, the type of woman you marry."
– R.H. Sin

---

"'I'm sorry, Aslan,' [Lucy] said. 'I'm ready now.'
'Now you are a lioness,' said Aslan. 'And now all Narnia will be renewed. But come. We have no time to lose.'"
– C.S. Lewis, Prince Caspian
"It is an awesome thing, the becoming of you, and you are bound to make them uncomfortable;
Leave them to their discomfort, for you, oh you, blossom beautifully within their fires."
– Nicole Lyons

---

"She didn't need to be saved. She needed to be found and appreciated, for exactly who she was."
– J. iron word.